Tulsa, Oklahoma Recreational Vehicle Insurance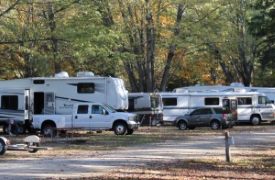 Oklahoma Insurance Connection, LLC is one of Tulsa, Oklahoma's independent insurance agencies; this coupled with the company's extensive understanding of the insurance industry and its numerous players, means that we are able to source for the most competitive rates on policies that both provide value and adequate coverage for your toys. Considering that the vehicles to be, more often than not, of significant financial value to the owner, it is imperative that you choose a provider that offers you a policy that meets all the protection requirements you may have. Our deep connections with the area's top-rated insurance companies and their products gives us the capability to provide you with multiple points of value.
Much as they may provide you, the user/ owner much enjoyment and satisfaction, recreational vehicles also bring with them several unique challenges, risks and exposures. Some of these vehicles diminish significantly in value if they are not in perfect condition, and as such, are prone to potential damage when driven out in busy streets. Give us a call, we can help protect your source of enjoyment.
Recreational Vehicle Insurance coverages in Tulsa, Oklahoma
There are several policy options available to you in Tulsa, Oklahoma that you may use to protect your toy(s), some of which include: a) motorcycle insurance; b) ATV insurance; c) boat insurance; d) personal watercraft insurance – covers sea-do, jet skis etc; and e) RV insurance that includes trailers and campers. It is also important to remember to consider that many of our favorite toys are best enjoyed when coupled with trailers that may also require that you provide coverage for them.
Whether you already own a recreational vehicle or looking to add one to your collection and would like to consider using an agency, allow us to deliver solutions (based on our experience) that will protect all of your off road activities! We are more than happy to provide you with insurance advice that will work to retaining the value of your vehicle over time.
Talk to us if you want to find out more about the various types of recreational vehicle insurance options available in Tulsa, Oklahoma, including in areas such as Sapulpa, Broken Arrow, Sand Springs, Owasso and Jenks. Our agents specialize in understanding the unique features of insurance products provided within these areas and are best positioned to advise you the most appropriate solutions for your recreational vehicle insurance needs.