Tulsa, Oklahoma Commercial Auto Insurance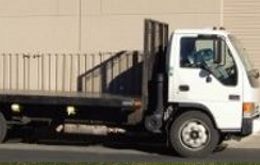 Usage that is not under personal auto coverages, physical damages and liability matters are insured under the Commercial Auto Insurance. Given that various vehicle categories are under this type of business insurance, it is otherwise referred to as fleet insurance, commercial car insurance or truck insurance. Oklahoma Insurance Connections, LLC has expert agents who can be assistance to you in identifying the most ideal insurance packages that will meet your business needs.
Is it important to get the Commercial Auto Insurance in Oklahoma?
Some of the similarities commercial auto coverages have with personal auto coverages are the provision for liability, accidents, all-inclusivity, medical expenses (or individual protection from injury) and coverage from motorists that have no insurance. On the other hand, personal auto insurances do have differences compared to commercial auto insurances such as coverages, exclusions, qualifications, meanings and boundaries.
Commercial auto covers tend to mostly be "no more than mentioned driver" covers. This means that the only people who are authorized to operate the auto are those who have been named on the cover.
The coverages are as follows:
· Collision coverage - covers costs incurred due to damages to your car whether it hits or is hit by another object;
· Medical payments, no-fault or personal injury coverage - incase your auto is involved in an accident, notwithstanding who was at fault, this typically covers for the medical payments of the passengers if they get injured;
· Bodily injury liability coverage - this not only gives you a legal defense in the event you were at fault and caused an accident whose aftermath was death or physical injury to the individual(s);
· Property damage liability coverage - covers any damages caused unintentionally by your vehicle to someone else's property and in addition provides legal defense;
· Comprehensive physical damage coverage - this package settles any costs for destruction to your vehicle or substitute in the event of fire, floods, vandalism, theft and other dangers mentioned in the package; and
· Combined Single Limit (CSL) – as opposed to separate limits for claims made for property damage or bodily injury (typical liability policy), a CSL policy covers each covered occurrence equally (dollar amount) whether it be property damage or bodily injury.
Insurance for Commercial Auto in Tulsa, Oklahoma
Given the numerous insurance packages available, selecting what is suitable may be puzzling. It is for this reason we at Oklahoma Insurance Connections, LLC would like to assist you in choosing an appropriate commercial auto insurance in accordance with your needs. Please get in touch with one of your professional agents to if you like to ensure your commercial vehicle in Broken Arrow, Jenks, Owasso, Sand Springs and Sapulpa areas