Tulsa, Oklahoma Motorcycle Insurance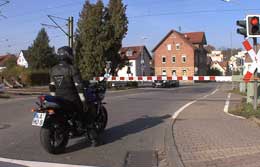 Requesting for Motorcycle Insurance Quote
Motorcycle coverages are among the specialty services we offer at Oklahoma Insurance Connection. Our agents are have the experience needed to identify the best-suited coverages from Motorcycle Insurance companies located in Oklahoma at the best and most favorable prices. In order to receive a no-obligation quote from us, you can either contact us at no charge or fill out an online quote request form.
In order to insure your motorcycle in Oklahoma, insurance companies take a number of varied factors into consideration. An individual company may not be able to accurately meet everyone's needs. For this reason, we are able do the comparisons on your behalf and determine what would suit your needs best.
The factors taken into consideration include:
· Where you live and how old you are;
· The kind/ type of motorcycle you own/ use/ wish to insure;
· The number of riders/ users of the motorcycle;
· Your credit history; and
· The driving record(s) of those that use the motorcycle
Insurance Options in Tulsa, Oklahoma for Motorcycles
Motorcycles are typically offered the same policies given to auto vehicles by a majority of insurance companies in Oklahoma. Moreover, other coverages are included in package such as property damage liability and bodily injury. In Oklahoma, covers such as comprehensive and collision and medical payments are additions you may prefer to have included as part of your motorcycle insurance. However, in case you are physically hurt by an individual who is not insured or someone who has an insurance that is not sufficient to cover your injuries, you can get the uninsured motorists coverage to cover your medical expenses.
So as to reduce the amount of money you pay for your premiums as much as possible, we can search for the best discounts if you meet any of these circustances:
· If you have taken and completed courses on safety;
· You have more than one coverage with our company;
· Your renewal history with the company (including a current one); and
· If you have insured more than one motorcycle with our company.
At Oklahoma Insurance Connections, LLC, we can assist you in assessing your current policy and examining your financial, personal and lifestyle models and ultimately select ideal motorcycle insurance in Oklahoma. Call us on 918-742-6500, and speak to one of our very knowledgeable agents and get the right insurance for your motorcycle. We offer services for Motorcycle Insurance in Tulsa, Oklahoma as well as in Owasso, Sand Springs, Broken Arrow, Jenks and Sapulpa areas.